About This Radio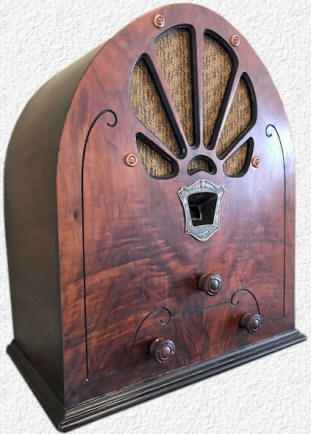 This is a Rogers-Majestic Corporation Ltd radio manufactured in Toronto Canada in 1931. The Chassis Type is a R-641. This Chassis was used in both the 610 and 629 models.
The Restoration
The cabinet was in reasonably good condition when I acquired this unit ten years ago. However, the electronics needed to be completely rebuilt. All the capacitors and most of the resistors were replaced. In addition the insulation on much of the wiring was crumbling and had fallen off in places and had to be replaced. This included the wiring to the speaker which was also replaced. In this particular set the tuning gang was completely seized with the rotor plates fused to the stator plates. As a result the tuning gang had to be disassembled and the plates realigned.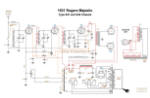 The Schematic
If you've seen an original schematic for these early Rogers model you known how unnecessarily complicated they made them. so to simplify the restoration process I took the time to re-draw the schematic and added color to easily identify specific runs. You can view the results by tapping the icon to the right.
Adding Authenticity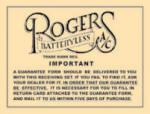 To add to the correctness of the restoration I took the trouble to reproduce the "Rogers Batteryless" decal that had one time adorned the inside of the cabinet. You can view the reproduction by tapping on the icon to the right.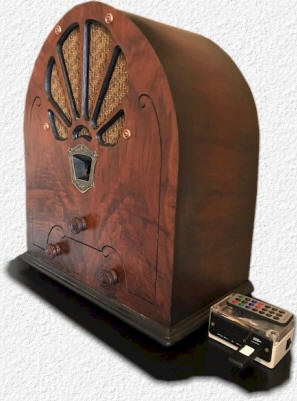 Adding Usability
This radio was modified to enable it to receive input from a small module that plugs into the back and sits on the table beside the radio. You can see the module on the table in the photo to the right. With the module attached you can play FM Radio Stations through the radio's amplifier and speaker. As will you can play music via Bluetooth from your smartphone or from a USB or Flash Drive inserted into the module. If you read the information on the Extension Modules link in the menu to the left you will recognize that I've implemented what is referred to as "Type-B" modifications and equipped the module with a rechargeable 12-volt battery.
Download Modified Color Schematic PDF