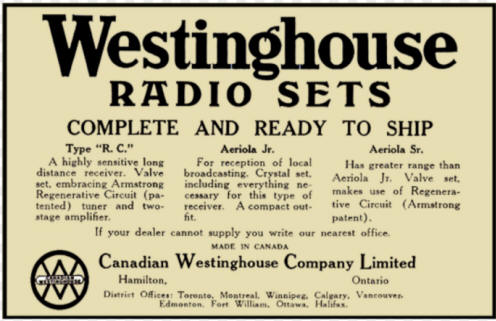 This radio was manufactured in Hamilton Ontario at the Westinghouse plant on Princess Street. The Canadian Westinghouse Co. Limited was established in Canada in 1903. At one point employing 11,000 people in Hamilton Ontario.
Radio production started in Plant #1 at 286 Sanford Avenue N. in Hamilton about 1923 with the Aeriola Senior. Production continued there until about 1941. In 1945 radio production was moved to Plant #2 on the corner of Longwood Road and Aberdeen Avenue, Hamilton, Ontario.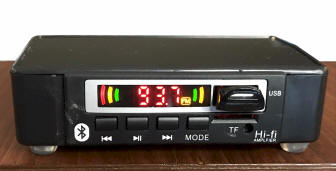 This Radio comes equipped with a module that enables the radio to play music from your SmartPhone, play a playlist on a USB Key or play your local FM Station all through the radio's vintage electronics.
When you first turn this radio on it will play programming installed on an inserted USB Key and when turned off and later turned back on it will resume the programming where it left off. This is a valuable feature that will allow you to play your favorite playlist of music on this vintage radio or even play recorded old time radio programs from the era when this radio was manufactured.
This radio was in fairly poor condition when acquired. The condition of the cabinet required it to be completely stripped down. Some areas of the veneer were repaired and the cabinet was re-stained and lacquered.
The radio's chassis required extensive restoration. All of the capacitors were replaced and 95% of the resistors were swapped out. As well the volume control had to be replaced. The chassis was extensively cleaned and all of the original labels and graphics were reproduced. The video below is a brief walk around of the radio and videos of the radio playing are available by clicking the menu item at the left labeled: "Listen to it Play".
Take a Look at This Fully Restored Radio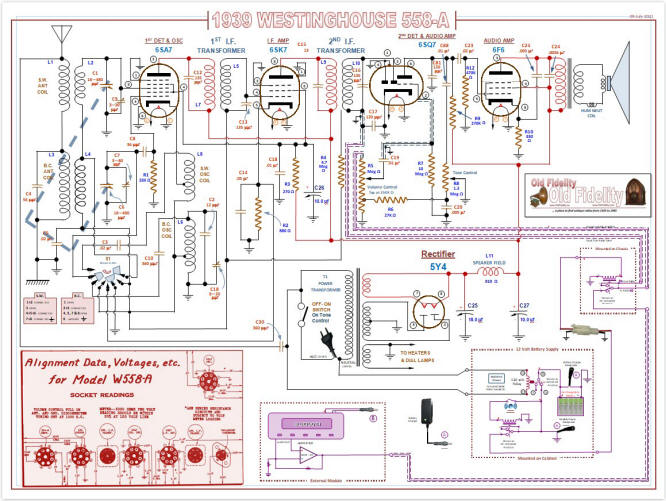 Review This Radio's Modified Schematic